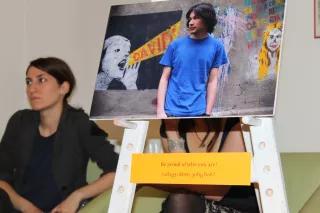 This is an archived article
Foreword
2012 was a special year in terms of publicity of LGBT (Lesbi, Gay, Bisexual and Transgender) community and LGBT movement in all three South Caucasian countries. Several important steps have been made towards raising acute issues about sexual identity, differences/diversity and social constructs in Azerbaijan, Armenia and Georgia.
Azerbaijan has become the centre of attention of the western society in the context of Eurovision music contest. International media made special reports about LGBTs who allow themselves to publicly speak about their sexual identity.  
On 21 May, on the initiative of several NGOs a "Diversity March" was organized which went on against the background of aggressive protest of the demonstration opponents. Despite the police protection, the demonstrators were forced to stop the march and seek shelter in one of the buildings.
On 17 May – on the International Day against Homophobia and Transphobia, the first demonstration took place in Tbilisi, which, as expected, was opposed by ultra orthodox groups. However, already on 18 May, LGBT community gained an unprecedented public support: heterosexual supporters of LGBT community gathered in front of the Parliament of Georgia who protested against the violence of so-called orthodox activists. They were backed by the Ambassadors of the Netherlands and France.  
On the same day Giorgi Tughushi, the Public Defender of Georgia published the statement regarding the International Day against Homophobia.
"Despite some progress regarding human rights, homophobia still remains one of the most significant problems in the whole world and unfortunately, Georgia is no exception".
"Negative attitude to lesbian, gay, bisexual, transgender and intersexual persons is quite common. Homophobic expressions or other actions often offend concrete group of people and favor the establishment of stereotypes in the society".
"Each of us should permanently remember that it is necessary to respect and accept the forms of self-expression and individuality of people".
"I consider that promoting the culture of tolerance and developing the interest in the rights and problems that lesbian, gay, transgender and intersexual persons are facing must become the foremost concern for politicians, public sector and media representatives in Georgia. Only in this case the development of democratic and liberal society of our state and society will become possible".
In all three South Caucasian countries where public, cultural and political life is viewed in the light of heterosexuality, cissexuality, ethnicity or confession, being a member of any given minority is automatically considered as estrangement of each individual followed by very complicated consequences. A person who does not wish to conceal his/her homosexual identity has but few chances to succeed in real life in their public, academic and political career.
Certainly, LGBT community is not the only minority group in Georgia, Armenia and Azerbaijan to undergo marginalization.  Young women who oppose cissexual and religious conservatism, in Georgia for instance, often are the objects of public aggression. The representatives of religious or ethnic minorities, as well as persons with disabilities, in most cases become the victims of discrimination.
Aggressive homophobia in the name of nationalism ("A Georgian and an orthodox cannot be gay") is the manifestation of radical attitude of the society.
That is why it is important for Georgia, Armenia and Azerbaijan to make efforts, have patience and be highly active in order that the society becomes more open and receptive turning from negative prejudices and hateful attitude to tolerant approaches. Such receptiveness will lay the foundation for social inclusion and equality in the future.
The LGBT community has to become more active itself, since as we see from the experience of western (and not only western) countries, it is only possible to achieve changes in the society and politics through many years of consistent and organized activeness. These changes will bring about the full protection of their rights and equality.  
The rights of all public groups are clearly determined in the European Union. Despite the fact that the majority of South Caucasian political parties are oriented at ethnic, religious and nationalist concepts and they mainly support conventional conservative values, political actors should realize for the future that political values and public attitudes have to be changed in order to approach the European space; it is necessary to make step-by step, consistent changes.
2013