Dossier
On 31 October 2000, the UN Security Council adopted the Landmark Resolution 1325 on Women, Peace and Security. On its 20th anniversary, this dossier portrays women from 20 countries that make a difference in peace and security.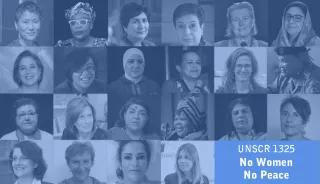 This dossier aims to present women from 20 different countries all over the world who are engaged in building peace in their countries, societies and communities. They work towards a more secure environment not only for women and girls, but for everyone. The portraits pay tribute to the dedication and engagement of these women who stand as representatives for many other women with the same goal.
At the same time, this dossier should serve as encouragement for other women wanting to become engaged in peace and security processes. It is also a call to further increase and strengthen structural participation of women in peace and security processes at all levels.
Women's participation in peace processes is crucial for transforming and ending conflicts in a non-violent way. For women, peace and security is definednot only by the absence of violence, but also by the fulfilment of basic socio-economic needs. This ensures that peace lasts longer and is more stable. In short: No Women – No Peace.
The dossier was first published by HBS and is available here.