Article
Economists have called COVID-19 an economic SHE-cession because millions of women have exited the workforce to adopt the role of family caregiver. In the Philippines, the COVID-19 induced SHE-cession which is a compounded crisis of health, economy, and governance that has exposed the uneven vulnerabilities of women across different sectors.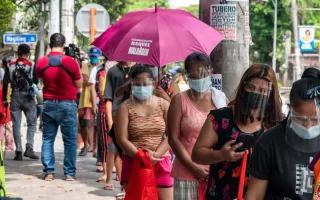 *Click here to read part 2 of the article.
It was in March 2020 when the Philippine government first declared a nationwide lockdown to prevent the spread of COVID-19. The government suspended public transport, closed all offices and commercial establishments, and shuttered schools. In Metro Manila, which comprises 17 cities that make up the country's economic hub, the once busy streets that were a jumble of pedestrians, vehicles, and market stalls selling anything from a buffet of street food to colorful knickknacks became eerily quiet and deserted.  
The pandemic was especially devastating to the estimated 3.5 million Filipino women who work in the informal economy operating small food stalls called "carinderias" on street corners or small convenience shops called  "sari-sari stores" from their doorstep. As part of the informal economy of small business owners, women run home-based enterprises engaged in direct selling or providing personal services like washing clothes. In rural areas, women augment their income through farming and fishing and engaging in related post-harvest activities such as food processing. The informal economy is estimated to be valued at PHP 5.013 trillion (USD 98 billion) to GDP.
According to Flora Assidao-Santos, Secretary General of Metro Manila Vendor's Association (MMVA), an organization of street vendors spread across a dozen municipalities, Filipino women in the informal sector were the first to be cut off from economic opportunities with the imposition of the COVID-19 national lockdown. Vendors were barred from selling in the streets, depriving them from their main source of income. As daily wage earners, street vendors had little or no savings to cushion them from the brute impact of the economic slowdown brought by quarantine restrictions. "The street vendors and their families went hungry," said Assidao-Santos.
The street vendors and their families went hungry.
Since the outbreak of COVID-19, the Philippines has implemented various permutations of quarantine and has been cited as having the longest lockdown in the world. The often changing and invariable movement restrictions have been unevenly implemented across the different provinces, municipalities, and villages. However, in all its varying implementations, the  government response has been skewed towards a military approach with roadblocks and checkpoints guarded by armed military and police personnel. Quarantine violators have been detained in overcrowded holding areas.
The approach has done little to curb the spread of the virus. More than 1.6 million cases of COVID-19 and 28,000 deaths have been recorded since the start of the pandemic. Vaccination efforts have not been able to keep pace with spikes in infection rates. Currently, only 9.4% of the population have been fully vaccinated against the coronavirus.
In Quezon City, the most populous city in the National Capital Region (NCR), Santos together with the MMVA negotiated with the local government to allow vendors to sell. Still, getting back on the streets to sell solved just one problem. With most of the population mandated to isolate themselves at home, sales were significantly reduced. Additionally, the suspension of public transport meant having to walk for hours each day to and from their homes to their selling area. "Most of them had to walk around 23 km as most live in peripheral cities of Manila. It was tiring but most of them persisted. Sometimes some kind souls would allow them to hitchhike but that's dangerous, too," said Assidao-Santos.  
Over in Cebu, the country's second largest economic hub, the imposition of the lockdown reminded residents of the dark days of military rule in the 1970s. "Police personnel were seen in almost every street corner manning checkpoints. The roads were quiet. People were barred from going out unless absolutely necessary and only when you can present a quarantine pass," said Inday Olayer of the Freedom from Debt Coalition-Cebu Chapter during a forum about women's health and safety.
The relief goods provided by the government arrived only in late April. By then, people had been hungry for almost a month.
When the government eased restrictions to spur economic movement a few weeks later, many Filipinos who were caught unprepared were still suffering from food insecurity and delayed government aid. According to Olayer, the initial results of a survey on the impact of the lockdown on Cebu communities showed that many people were hungry. "The relief goods provided by the government arrived only in late April. By then, people had been hungry for almost a month," she said.
In the rural areas, assistance arrived even later. Farming and indigenous communities consumed their early harvest to survive, but as the pandemic lingered, many were forced to consume even the seeds that were allotted for planting.
Labor force surveys show that workers in vulnerable forms of employment like the informal economy are less likely to have access to social protection mechanisms like health and accident insurance or be eligible for government assistance programs that could mitigate the adverse economic impact of a global health crisis like COVID-19.
Marites Melikado, a member of a community theater group called Teatro Pabrika,  felt the compounded consequence of the pandemic when the lockdown disallowed holding of events. This also cancelled the need for materials that she sewed for the venue arrangements. The PHP 700 (USD 14) to PHP 1,500 (USD 30) Melikado made daily contributed to the PHP 3,000 (USD 60) her husband usually made per day delivering goods for an online store. The lockdown slashed their combined income. To make ends meet, they were forced to sell their delivery vehicle which had been another source of income for them.
"In one year, the van would have been ours," said Melikado about the loan that they were close to paying off.  "But we had to prioritize food and other basic necessities--their prices have increased almost threefold," she lamented.
Women bearing the brunt of the COVID-19 global pandemic on all fronts
Globally, women exited the labor force at substantially higher rates than men during the pandemic. Assuming a higher share of domestic responsibilities to care for loved ones and supervising their children through online schooling were major factors that contributed to the diaspora of female workers. Economists have described the economic impact of COVID-19 as a "she-cession" because of its disproportionate and lingering impact on  women's finances and economic prospects.
Across the world, women were already performing 76.2 percent of unpaid care work, a rate that is 3 times more than men.  The pandemic significantly increased women's share of domestic duties when lockdown measures confined people to their own homes and fears of contagion intensified the needs of elderly and vulnerable family members.  
Filipino women spent 7 hours performing housework compared to 4 hours prior to COVID-19. Men also put in more hours in household duties, jumping from  2.4 hours to 5 hours, however, this was still less compared to women.
A gender impact analysis study conducted six months into the outbreak showed that on the average, Filipino women spent 7 hours performing housework compared to 4 hours prior to COVID-19. Men also put in more hours in household duties, jumping from  2.4 hours to 5 hours, however, this was still less compared to women.
Apart from  managing the economic fallout, mothers like Melikado have had to take on the additional task of caring for and tutoring her three children. Government included closing schools as part of its health protocols and implemented distance-learning programs. Filipino children have not physically been inside a classroom since the imposition of the March 2020 lockdown.
[Read: In the Philippines, distance learning reveals the digital divide ]
"They don't have to (physically) go to school so we save on transportation costs, but now we have to buy cell phone credits so that they can attend online classes. We also pay to print the modules because it's difficult for the children to do the module on their cellphones," said Melikado.
My husband would ask me, but I would not agree. How can we do it when my mind is preoccupied with our household budget?
The economic pressures have also taken an emotional toll on Melikado's personal relationships. Even the comfort of sexual intimacy with her husband does not offer the same usual reprieve. "My husband would ask me, but I would not agree. How can we do it when my mind is preoccupied with our household budget?"
For City Reyes, juggling the duties of being a full time working mother of four means starting each day before sunrise. "I wake up at 5AM to clean, to cook breakfast, and do the laundry. Everything--bathing, breakfast, and getting ready for school--has to be done by 7AM. While the kids are attending classes online, I work. I can't afford to lose my job. I am luckier than others because I still have a job."
Women in agriculture
In sectors like agriculture, which is one of the largest sectors of women's employment, the role of women is often not recognized.
According to Luz Bador who heads the Barangay Obat Health Workers Association (BOHEWAS) in the central Philippine province of Negros Oriental, quarantine protocols particularly restricted the mobility of women. The mostly female small scale farmers who are members of BOHEWAS could not market their produce because they could not secure the necessary quarantine pass to leave their homes. Government health protocols allowed for the issuance of only one quarantine pass per household head, which usually went to the adult male family member.  
For the rural and indigenous women like Bador, inclusion in government programs is dependent on the registry system of farmers and fishers, which is still biased towards the men because of the perception that tasks directly associated with farming and fishing are performed by men. Bador, and other community women, had to register themselves to be counted in state programmes.
In addition, the outbreak of the pandemic coincided with the harvest season. Roadblocks and checkpoints disrupted agricultural supply chains and transport links. Desperate farmers took to social media, pleading for netizens to buy their produce before it spoiled. Rice farmers, who had barely recovered from the massive loss of income due to the flooding of rice imports the previous year and a series of devastating typhoons were particularly hard hit.
We don't get hungry, but we do not have money. And we are always afraid of what will happen if we get sick.
"We couldn't get through the checkpoints to bring our vegetable products to Manila's trading posts. Even when security loosened a little, there were no buyers due to lack of transportation. The prices went up. We're lucky we have our own jeepney, but the others in our place weren't able to sell their harvests," said Ofelia Galvez, a vegetable farmer from Nueva Ecija, a province about 123 km north of Manila.
The total agricultural damage in the latter part of 2020 was estimated at PHP 4.6 billion (USD 91 million). Galvez and her family had enough produce for their daily food needs but as she put it, that did little to allay her fears. "We don't get hungry, but we do not have money. And we are always afraid of what will happen if we get sick." she said.
Government aid insufficient to cushion against economic impact
To soften the economic blow, the government provided financial support to poor households by distributing cash grants of PHP 5,000 (USD100) and PHP 8,000 (USD 150). Earlier this year, after another round of lockdowns, the government distributed monetary support ranging from PHP 1,000 (USD 20) to PHP 4,000 (USD 80).
However, the government support was sporadic and unevenly distributed. Melikado and some MMVA members, who live in the periphery of the Philippine capital of Manila, received state assistance. However, other women like Edwina Sarmiento from Lanao del Sur, a province 1,246 km south of Manila, fell through the cracks of outdated and inaccurate government databases. Sarmiento was disqualified from receiving cash support from the government because she was already listed as a beneficiary of the government's pre-pandemic poverty alleviation program. According to Sarmiento, she and her family had not received any form of government support in the years prior to the pandemic.
All the women lamented that government aid was not sufficient and commensurate to the loss of economic opportunities due to months under lockdown. To fill in the gaps in the government response, concerned citizens across the country set up neighborhood community pantries offering free basic food supplies. Photos on social media showed that it was mostly women lining up as early as 3:00 am for food supplies that could get them through the day.
Multiple health crisis for women and girls  
COVID-19 also had the dual effect of exacerbating and overshadowing existing health crises that made women and girls vulnerable. Health protocols that were meant to curtail the spread of the coronavirus also prevented women from accessing reproductive health services and products. The Commission on Population (POPCOM) reported a 50 percent drop in government clinic visits due to lack of public transport, limited health staff, and reduced clinic hours.
Globally, the United Nations Population Fund (UNFPA) estimates that overloaded health systems and disrupted global supply chains would cause millions of women to lose access to contraception. In the Philippines, government experts predicted that about 5 million women would be cut off from reproductive health services resulting in a "coronavirus baby boom" and estimated 2.5 million unplanned pregnancies. According to POPCOM executive director Juan Antonio Perez III, this would reverse the earlier gains made by improved access to family planning services.
The situation is more dire in remote rural areas like Zamboanga del Sur, central Philippines where Lucelyn Buhisan is a village health volunteer.  "One nurse is assigned to two to three villages and makes visits only twice or thrice a month," she said.
Health volunteers like her make up for the scarcity in health workers by taking on the role of an all-around first responder. Apart from escorting pregnant women to health clinics, Buhisan also assists in the birth preparations by arranging the logistics and transport arrangements  that are now more complicated because of limited public transport and overcrowded hospitals.
The Shadow Pandemic of Violence Against Women
Ironically, health directives to stay at home have put many women at increased risk for violence. For the one in four Filipino women who have  experienced physical, emotional or sexual violence by their partner, home is a dangerous place to be. Several studies show that the food and income insecurity triggered by crisis situations like a pandemic are also triggers of violence.
As COVID-19 continues to strain health services, there has been an explosion of domestic abuse on a global scale which UN women has called the "shadow pandemic".
In March to June 2020, following the COVID-19 quarantine lockdown, about 5,040 cases of violence against women and children were reported in Metro Manila. However, these numbers are likely to be underreported as police and social services shifted their priorities to mitigating the outbreak. Cynthia Cotton, leader of the Nasugbu Rural Women Organization, narrated one rape case where the police discouraged the survivor from filing a case, citing understaffing. "If it weren't for the intervention of the Commission on Human Rights, the case would have not have been given proper attention," said Cotton.
On August 6, 2021, the government again declared the imposition of a hard lockdown to prevent the spread of the highly infectious Delta variant which has been detected in various parts of the country. More than one year into a pandemic that has confined people to their homes, women's rights groups are calling for a government response that will consider the disproportionate impact of COVID-19 on women and plan for mitigating the long-lasting impacts of lost livelihoods and economic prospects.
When a mother is home, all the household needs automatically redound to her. She needs to think of everything.
Flora Assidao-Santos, of the MMVA street vendor organization, said that women are physically and mentally exhausted from taking on the compounded economic and emotional burdens brought by COVID-19. As Assidao-Santos put it, "When a mother is home, all the household needs automatically redound to her. She needs to think of everything."
Women have been taking care of everyone throughout this raging pandemic. Government interventions now need to start thinking of women.
__
Daryl Leyesa is rural women's rights advocate and project manager of sexual health empowerment advocacy at the National Rural Women Congress of Philippines (PKKK).
Carmina Flores-Obanil is the Asia Regional Coordinator of Coalition for Human Rights in Development. Her main expertise are issues of human rights, land rights, indigenous people's rights, women's rights and climate justice.
The views expressed by the author are not necessarily those of Heinrich Böll Stiftung.
This article was first published by Heinrich Böll Stiftung Southeast Asia.