More reports about rapes by the Russian army against the Ukrainian girls and women who are arriving in Slovakia have been exposed. In the meantime, the Slovak parliament is discussing proposals on banning abortion for women without permanent residency. This cynical targeting of Ukrainian girls and women is disturbing, says Denisa Nešťáková.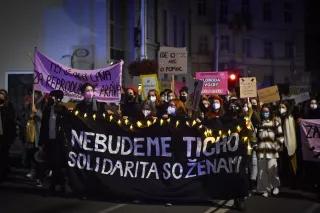 As more information on crimes perpetrated by the Russian army in Ukraine has been exposed, and more reports and testimonies on sexualised violence have been uncovered, the Slovak public has responded with horror. At first, society has been paralysed, but soon after, various NGOs started campaigns to collect and donate the so-called "morning-after" pills and abortion pills for Ukrainian girls and women raped and impregnated by Russian soldiers. Information on the availability of abortions in Slovakia was provided for them.
1. There has never been an easy access
The termination of pregnancy in Slovakia is currently regulated by Act 73/1986 Coll. of the Slovak National Council, adopted in the former Czechoslovak Republic, and it has been a part of Slovakia's legal system since 1993. According to this Act, termination of pregnancy is allowed within 12 weeks of gestation upon written request of the pregnant woman, without needing to provide any justification of her decision. The woman then receives information from her gynaecologist about the possible consequences of the procedure and the alternatives to abortion, as well as counselling about birth control. At the earliest, the termination of pregnancy can be performed after a 48-hour waiting period from the time of counselling. Second-trimester abortion is allowed only for medical reasons.
While this seemingly progressive law is still in action, there are many obstacles that a woman seeking an abortion still needs to face. First of all, despite the abortion pill being deemed by experts to be the safest method available, it is not legal in Slovakia. Thus, the only legally recognised method of abortion in Slovakia is surgical abortion. Secondly, the cost of an abortion on request is comparatively high, at approximately 300-500 euros, especially for women with low incomes. Lastly, numerous gynaecologists, whole institutes and even entire hospitals are able to refuse to provide abortions on the grounds of conscientious objection to the practice.
In addition to these obstacles, shortly after the Velvet Revolution of 1989, the political efforts to restrict the access to safe and legal abortion in Slovakia emerged and, with changing intensity, have lasted until today. The intensity of attacks on women's health and sexual rights has risen since 2018, with the Slovak parliament having discussed 19 different proposals aiming to restrict access to abortions, or banning them completely, even though there has not been support from the majority of Slovaks.
2. There is a war and wartime rape survivors
It is not clear how many girls and women have entered Slovakia pregnant after being raped by soldiers of the Russian Army. Yet, since the very first day of the Russian war against Ukraine, Slovakia has experienced refugees crossing the Slovak-Ukrainian border to escape the Russian attack. Up until 11 April 2022, more than 314,000 refugees from Ukraine were registered in Slovakia, with a population of over 5.4 million. By end of March, 92% of the refugees were Ukrainians, and the remaining minority were not from Ukraine but from other countries outside of the EU. The majority of refugees have been women and children.
NGOs, such as Možnosť voľby (Freedom of Choice), who has been the main organisation fighting against any aims to restrict women's health and reproductive rights in Slovakia in recent years, highlighted the existence of wartime rape victims as early as the beginning of March 2022. Možnosť voľby also published a leaflet in Ukrainian, Safe Abortion is Your Right [also available in English],  for girls and women arriving to Slovakia from Ukraine. Furthermore, it has helped collect donations for emergency contraception for survivors of rape in Ukraine.
3. There is nothing worse than "helping pregnant women"
In light of this information, one would expect a humanitarian and empathetic response towards victims of war rape. However, Slovakia has a history of law drafts aiming to ban or restrict access to safe abortion, disguised by the motto of "Helping Pregnant Women". Despite being aware of sexualised violence against Ukrainian girls and women, two different proposals by Slovak MPs to ban abortion (targeting so-called "abortion tourism") appeared in April 2022. The first was submitted by former OĽaNO (Ordinary People and Independent Personalities – the winner of the 2020 elections) deputy Martin Čepček, who is currently an independent MP. The second proposal was submitted by  far-right People's Party Our Slovakia deputies, whose leader Marián Kotleba was found guilty of sympathising with neo-Nazism, resulting in a six-month suspended sentence from the Slovak Supreme Court, which also means that he lost his parliament seat. 
Both proposals include the "usual" formulation, which reappears to be the main (and sometimes the only) agenda of Catholic, conservative, populist and far-right MPs, to ban abortions at the request of a woman, and to permit them only if the woman's health or life is endangered, if there is clear evidence of serious harm to the foetus, or if the woman has become pregnant after rape. Yet, these two new proposals aim to ban abortion for foreigners – thus punishing Ukrainian girls and women who have been victims of wartime rape.
4. There is a chance that it is happening in your country too
While Slovakia has gone through a period of repeated attacks on the sexual and reproductive rights of women since 2018, these last two most recent proposals, namely to restrict abortion access to Slovak women and ban every option to undergo abortion for foreign citizens without residency in Slovakia, represent a cynical punishment for women who have already experienced hell.
As wartime sexual violence against girls and women in Ukraine is intensifying, many need help now, and it is likely that even more girls and women will need emergency contraception or abortion to prevent possible pregnancies after being raped by Russian soldiers in the future. These girls and women, who are victims of war crimes and survivors of rape, should not be retraumatised by the populistic policies of local governments.
What is happening in Slovakia right now is not an exceptional case of some Eastern European country. The attacks on women's health and reproductive rights have been spreading in Europe and beyond for long enough. The case of Slovakia's efforts to ban abortion for Ukrainian wartime rape survivors should disturb you enough to pay close attention to whether the same thing is happening in your country too.